The base of your label is always the appropriate text and design to communicate well the product information. This is the task for cooperation between expert on your product and your graphic designer. But do consider the label as well from a broader perspective of a communication campaign to help position the product among all the rest. Consider few tips from our past article.
Intensive cooperation with us should start in the designing phase for sure. We can help you find the best printing techniques to communicate value behind the package. We offer all sorts of printing techniques of the standard selection in the highest possible quality. See for yourself in our Technologies gallery. Plus, we bring the exclusive technology of metallic doming in this region. This allows you to get beautiful plastic print in metallic effect on see-through materials (works well with the no-label look).
In addition to these traditional techniques, Purgina team has experience with several exclusive printing embellishments and specialized inks. These can add interactive or highly exclusive feature on your label design. You can use that to appeal to specific customers, or even as a security element!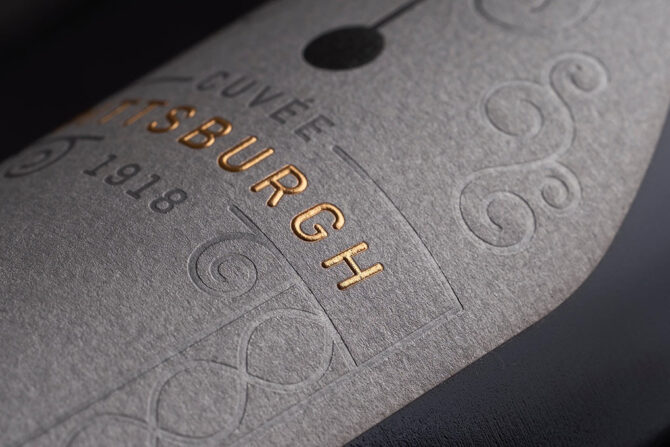 Indicate the right temperature with thermochromic ink
Your label can indicate the ideal temperature for serving, or simply preserving your product. Be it vine or a different drink that tastes best served in specific temperature, or even a ham to stay fresh longer… Magic is to add a feature printed with the thermochromic ink on the label design. But beware, shades of colours vary and we need to be clear on the temperature span to make the colour reaction ideal.
Sparkly, shiny or matt details?
Glitter, sequin, or pearl additives to varnish can add the perfect spark or structure to catch the attention especially under different light angles. Options are many and we can offer you a custom-made solution thanks to our many experiences.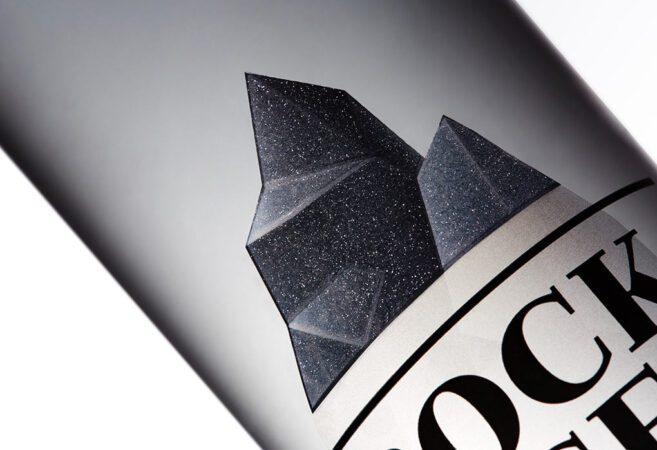 Glow-in-the-dark Fluorescent print
This can add an interesting feature on your product packaging. Especially if your product is often used in dark of a bar, or a camping trip or even if you need to add a specific security feature for use in dark spaces. The print applied with a slightly green-ish shade brings a highly interactive design feature that makes your product stand out.
Blacklight ink – speciality feature that glows under black light!
Although there are limits to the colour-range of this effect, it is a highly specific print option that can add a security feature or a highly exclusive detail.
This is mostly used as a brand protection detail, or a very specific marketing campaign detail. Under standard conditions the blacklight ink is invisible, or acts as a normal varnish effect. When applying black light, a hidden detail shows up.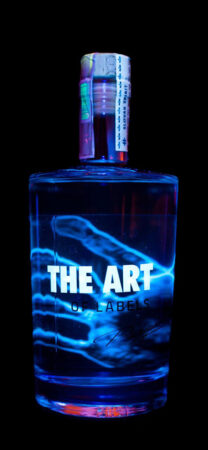 To have your label shine in dark you can either choose the very special blacklight ink for a specific campaign or as a security measure. Or go for fluorescent print and have your product glow right in the hands of the customer in the right moment.
---
Specific printing technologies and exclusive embellishments have a wide range of applications. Be it a visual detail, or an interactive feature, acting as an informative detail or a security measure. Important is to emphasize on the detail in the overall communication campaign of your product for big impact of the small detail. We, as your printing house, know the limits of these features and are ready to help you match it with print materials and your product use scenarios. Best to be discussed at the very beginning of your label design process. Talk to our experts!